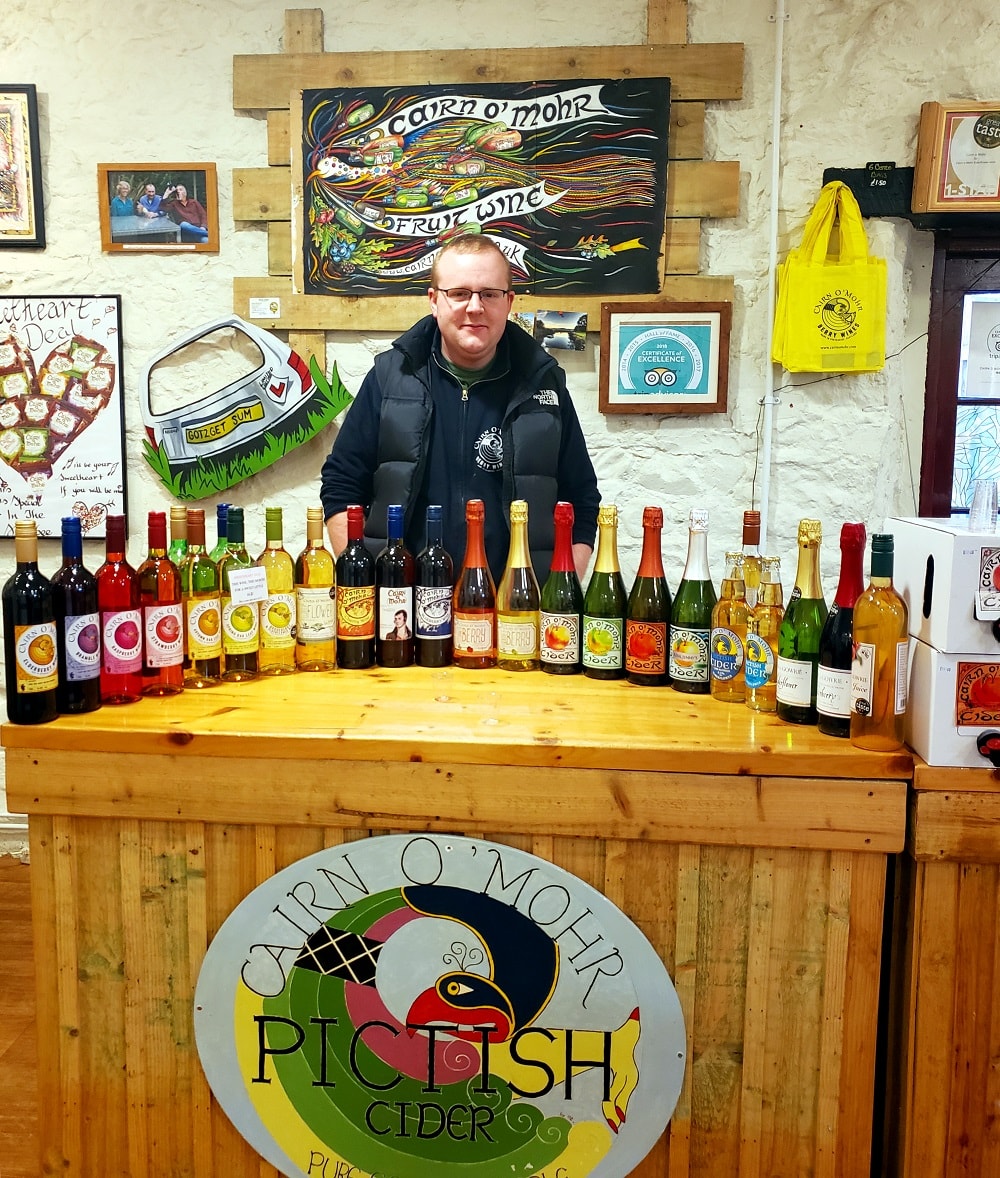 Fruit wines – a chance encounter
On a recent trip to Scotland, wanting to explore a few more cities besides Edinburgh, I took a drive up north without a specific plan in mind. The two nearby cities of note north of the capital are Perth and Dundee. So, first headed to Dundee, the coastal city on the Firth of Tay estuary. Dundee with a population of one-hundred-fifty thousand, has a beautifully modernized waterfront which houses two nautical museums and art galleries, as well as the jute manufacturing museum, celebrating the ancient jute industry of the city. Perth is a 20-mile drive to the east from Dundee through a green expanse of beautiful landscapes of ultimate tranquility. Also situated on the banks of the Tay River in central Scotland, Perth is much smaller than Dundee – population of about fifty thousand. Despite its smaller size, however, the city has a very rich history dating back to the prehistoric times. The presence of Scone Abbey, where the Kings of Scotland were crowned, elevated the early importance of the city to a point where it was considered as the country's capital, and was home to the Royal Court. Both Perth in Australia and Perth in Canada take their names from this historic city, which is presently a vibrant retail and culinary center, having earned the moniker: "Scotland's Food Town of 2018."
As exciting as visiting these two cities, the highlight of the exploratory ride to the north, however, was a surprise stumbling upon "The Strange Scottish Winery – Cairn o' Mohr." As its name suggests, this laid back winery/cider house is quite different than most conventional wineries – from their colorful marketing brochure to their large sign designed in crayon colors, umbrellas of different colors dotting the patio and even their delivery truck, blazoned in bright colors. All evoke descriptive adjectives, such as unconventional, offbeat, funky, lighthearted! Located halfway between Dundee and Perth, Cairn o 'Mohr is a delightful winery specializing in fruit wines and cider. The Carse of Gowrie between the two cities is, as it turns out, a serious fruit growing area. The word "carse" is an old Scottish term for fertile, low-lying, typically alluvial land. Gowrie, on the other hand, is a region of Scotland covering what eventually became Perthsire – hence the name Carse of Gowrie for the area.
The avuncular winemaker, John, graciously provided an impromptu overview of the winery. He was most generous with his time and his information, as well as with his pours of an impressive array of delectable wines. The wines and ciders – both alcoholic and nonalcoholic –include not only the familiar varieties, such as strawberry and raspberry, but encompass many different and exotic fruits and leaves, including the unusual Oak Leaf Wine, my favorite. Most of the wines contain about thirteen percent alcohol, although there are some lighter ones with only eleven percent. All are fermented in stainless steel barrels and distributed in the spring, following the harvest, to be enjoyed while young. The winery, in operation since 1987, takes pride in making its wines and ciders entirely with local fruit, leaves and flowers.
I asked John if there are any other wineries in the area. Dick Erath has been making Pinot Noir, Gewürztraminer and Riesling in his eponymous winery since 1972, but is closing his door as of March of 2020 and turning over the operation to St. Michelle Estates of Washington. John did not know the reasons why such a well-established winery is calling it quits. As a footnote, it is certainly unsettling how quickly 'Big Brother' traces one's whereabouts these days; shortly after my visit to Cairn o' Mahr, an article showed up on my telephone. The title of it was: "Historic Erath Winery in Dundee is closing…" My only consolation is I was privy to the information before contact from Big Brother!
Cairn O' Mahr is a charming winery with wonderful fruit wines, I would recommend a quick detour to anyone who is in that part of the world.