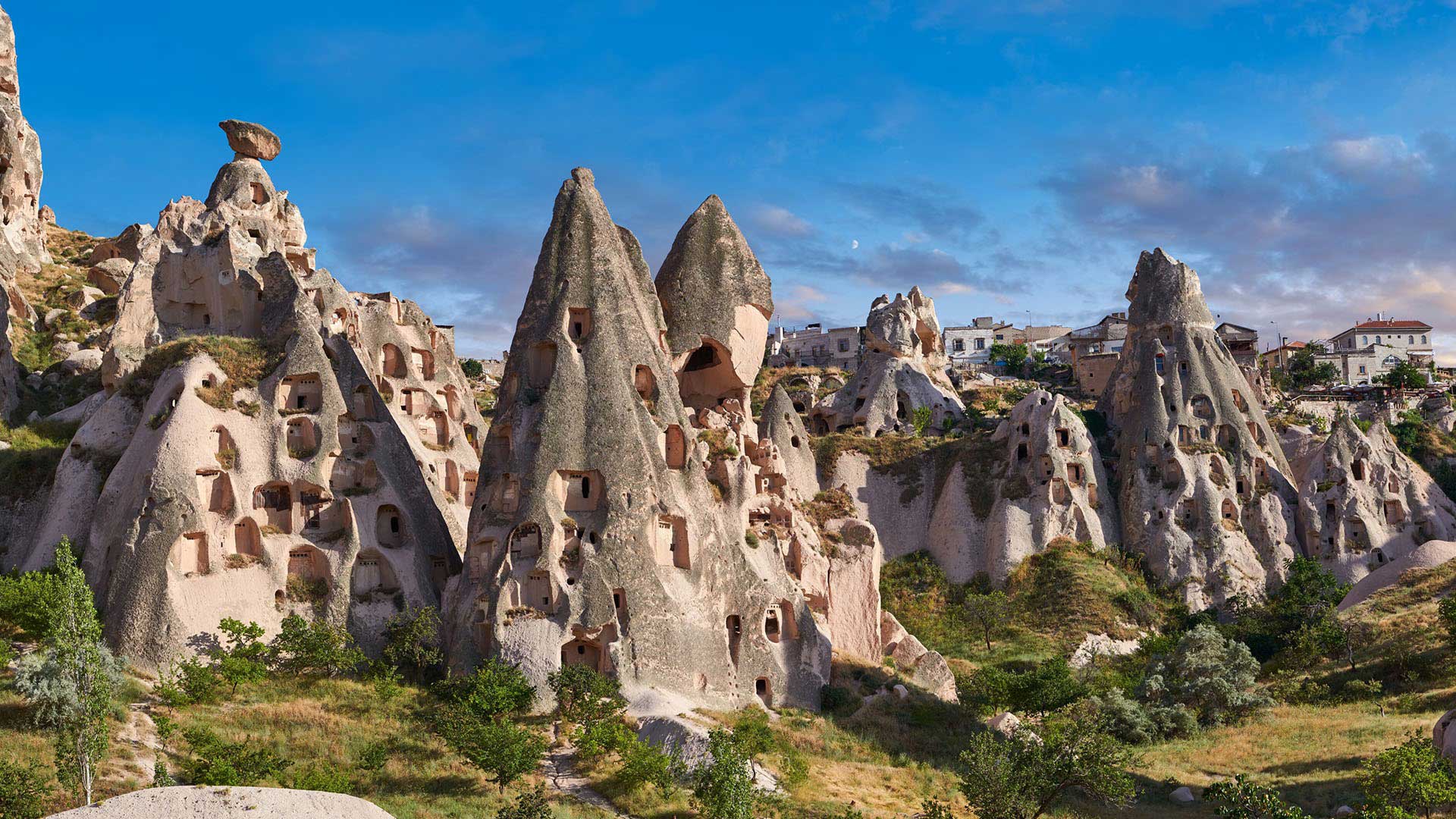 Cappadocia dreamin'
Cappadocia is one of those unique places on earth where nature's mysterious, dexterous hand had been busy sculpting a remarkable landscape for us; breathtakingly beautiful, wondrous fairy chimneys. They are rock formations created from volcanic ash. Melted rock-spewed by eruptions millions of years ago later solidified into "tuff", a soft rock. Over time, the relentless pounding of wind and water eroded softer parts of the tuff and shaped the remaining more resistant mass into what we praise today as "the fairy chimneys."  These rock formations have made Cappadocia one of the most popular tourist destinations in the world – rightfully so, as they present an almost surreal panorama with their graceful shape and height well over one hundred feet. Located to the north of the Taurus Mountains in Central Anatolia, Cappadocia is a large, rugged plateau encompassing several provinces, although the most well-known and frequently visited cities by tourists are Ürgüp, Göreme, Uçhisar and Avanos of the Göreme Valley. Incidentally, Göreme National Park was added to the UNESCO World Heritage List in 1985, and it is well sought-after by nature lovers.
History of the region is as ancient and intriguing as its natural beauty. Dating back to 200 BC, Cappadocia has been a sanctuary to many a civilization from the Hittites to Lydians to Persians to Romans exhibiting a mosaic of different overlaying cultures. As such, the area is truly a rich textbook for students of history and of early Christianity. Cappadocia's history was further enriched over centuries by silk road traders, as it was a commercial hub – conveniently located midway – for merchants traveling between Europe and Asia. Underground cities with their intricate passageways, network of elaborate locks and traps designed for defense, and dwellings built into rocks are a testament to the remarkable heritage of the area.  In an effort to preserve the historical spirit of the region, many of the modern restaurants, boutique hotels, bars, and small shops are carved into rocks and caves, offering a fascinating spectacle for visitors.
More recently, aside from history buffs and nature admirers, wine enthusiasts and culinary aficionados are also choosing Cappadocia as a point of interest for its local wines and rich food culture. It is rather amusing to note that wine is the "new thing" in Cappadocia, considering winemaking in the region dates to second millennium BC. Hittites were the first ancient civilization that produced and exported wine in and around Cappadocia. The wine culture was passed on to civilizations that later thrived on the Anatolian Peninsula, which duly carried the torch, or shall we say the wine goblet?
Several different varietals are used in local winemaking, including the popular international grapes, such as Cabernet Sauvignon, Syrah, Chardonnay. Boğazkere and Öküzgözü from southeastern Turkey are also prominently featured in regional wines. However, Kalecik Karası and Emir are the most appreciated, indigenous gems. Kalecik Karası, an almost extinct ancient grape, revived by the relatively recent collaboration of European and Turkish ampelographers is at its best where Kızılırmak (Red River) meanders; micro-climate and the soil type provided by the river that gently undulates through Cappadocia provides the optimum growth conditions for this grape. Pale colored with delicate red fruit, spice, and herbal notes on the nose, not massive, yet with enough presence of tannins to tease the tongue, Kalecik Karası can be described as the 'Turkish Pinot Noir'. The grape's increasing domestic and international popularity is prompting other wine regions to try their hand with Kalecik Karası, albeit with varying degrees of success.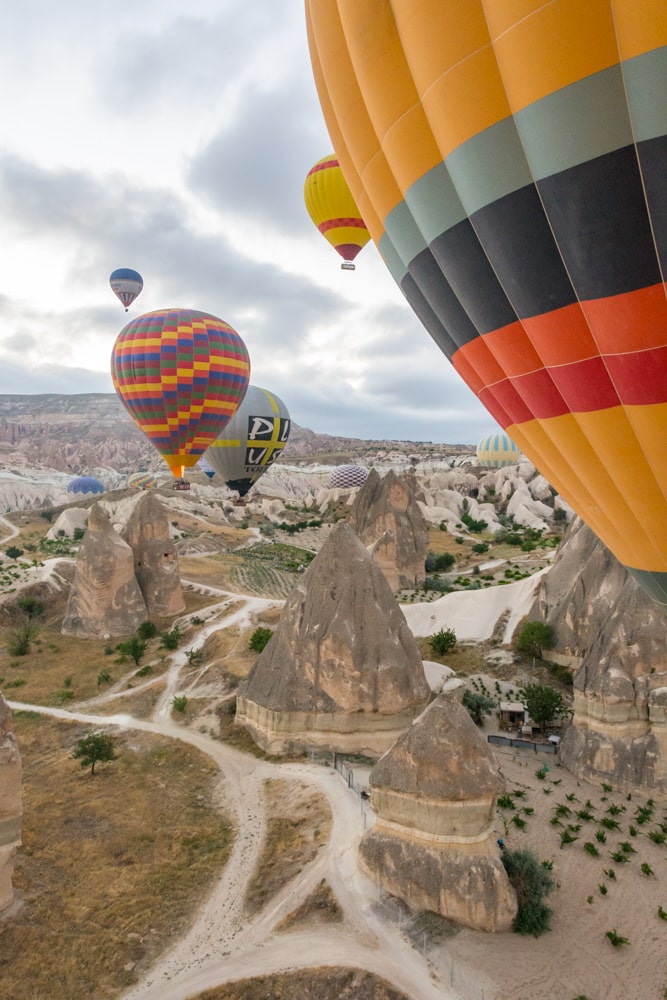 Emir, the other native grape of the Cappadocia region gives a light colored, delightfully delicate white wine with aromas of green apple and citrus. Cool evening air, due to high altitude, allows this grape to recover from the heat of the day and retain its natural high acidity. Generally, it is not oaked to preserve the crispy fresh fruit flavors, although I have tried an oaked version at a local winery, Turasan, which was very enjoyable. The word Emir, Arabic in origin, has two meanings in Turkish: Command and or local prince. Based on this meaning, Emir has been associated with the ruling elite of the times; it is said that it was the preferred libation of the local princes. Perhaps when José Vouillamoz, the world renown ampelographer, placed Emir on his list of presently not well-known, but soon to be a "star" grape variety a few years ago,  he was paying homage to the aristocratic tables of the past. Notwithstanding his motive, I humbly salute his astute prediction.
The three main wineries in Cappadocia are Kavaklıdere, Turasan and Kocabağ. Kavaklıdere is the oldest commercial winery in Turkey. It was established in 1929 as a family business shortly after the Turkish Republic was founded. The winery was named after the neighborhood it started in Ankara -now a fashionable district where most of the embassies, chic restaurants, trendy bars, coffee shops, and boutiques are located. Over decades, the humble beginnings of the winery evolved into the impressive operation that is now, spanning four generations, three major production facilities (Ankara, Cappadocia, and Pendore on the Aegean coast), six hundred hectares of vineyards and over sixty different wines, including bubbles. A few years ago, Kavaklıdere has spread its wings to the "wine Mecca", Bordeaux, by investing in two chateaux. The Kavaklıdere wines I was able to taste included La Folie, the Merlot produced by one these Bordeaux chateaux. Aged twelve months in French oak, despite the noticeable tannins, the wine has a velvety mouth-feel, with ripe plum, berry, cherry, and the typical aromas of the oak on the nose – a well-balanced wine with a long finish.
Turasan, another family-owned operation is the second largest winery of Cappadocia. Just a short hike up from the busy town center, the winery – a lovely stone building- sits in the heart of Ürgüp with a great view of the surroundings. Wine tasting is offered both at the tasting bars on ground level and down below in the quaint tasting room with more authentic furnishings. The lower level of the winery also houses their impressive wine storage area where stone building naturally maintains the temperatures stable, despite the region's harsh continental climate and the wide diurnal range during hot summer months. Turasan, now in the hands of the third generation, takes pride in being the pioneer winemaker of the region with a history dating back to 1943. Despite its long presence in the Turkish wine world, Turasan wines have gained popularity relatively recently – in the nineties. Investment in new winery equipment and technologies, as well as collaboration with European oenologues are by-products of touristic development of the region, particularly wine tourism. Turasan has a wide selection of wines at different price points. The Seneler series is their top level with offerings of both white and red wines. The reds, produced with international grapes as well as local varieties, receive oak ageing and are quite enjoyable.
Kocabağ winery is the third major and youngest player in the region. Started in 1972, it was a very small family operation. It was so modest that even the fermentation tanks, not just the winery itself, were carved into a rock. As Mehmet Erdoğan, the grandson of the founder and the current winemaker tells the story admiringly, this brilliant idea offered a much less expensive alternative to the temperature controlled modern fermentation and storage tanks that are in use today. Since then, the family has built a modern winery, with proper fermentation and storage tanks, along with several tasting rooms around the region. Their boutique tasting room in Uçhisar is a standalone building, also used as a wine store. The second level of the building, where wine tastings are conducted, is cozy and inviting – furnished attractively – in a blend of modern and authentic. The expansive view of the Pigeon Valley below through the large windows adds to the sense of ancient, eternal, and magical, all pleasantly gathered at the tip of your tongue with their delicate wines. Unlike Turasan and Kavaklıdere, Kocabağ's wines are made almost exclusively from indigenous grapes of Kalecik Karası, Öküzgözü, Boğazkere, Emir and Narince, a welcome change from the common rush to the popular international red and white grapes.
Seductive blending of modern and authentic in this ancient land is also evident in the culinary scene. Notwithstanding the traditional kabob houses, most of the trendy restaurants offer fused menus of traditional cooking with global touches featured with the local wines from these three wineries. There are also restaurants with a fixed menu of five to six courses paired with a specific local wine. Revithia is one such restaurant. Revithia's impressive menu, including a vegan selection, is well balanced between the three wineries, starting with salad and the appetizers, paired with a local white from Turasan and lighter red from Kocabağ, respectively, moving to a full-bodied red from Kavaklıdere to accompany their traditional meat dishes. The meal delightfully ends with a local desert dish paired with Vinolus Rose, made from Kalecik Karası.
All considered, Cappadocia is a tantalizing one-stop shop, combining stupendous natural beauty, ancient history, fine wining and dining and artisanal shopping for carpets, pottery, and antiques, all conveniently bundled together.
Cheers to Anatolia's indigenous grapes…